Confluence 4.2 has been released today with heaps of new features and functionality.
There is an improved content creation with Page Layouts.
There are is now more support for social collaboration with Confluence "Likes" and "What's Popular".
Quick Comments allow you to quickly comment on content and share feedback.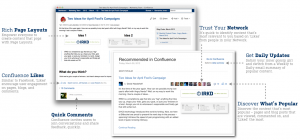 The new visual Page Layouts features allows in-editor changes to the layout of your content. They are easy to apply from a drop-down menu in the Confluence editor.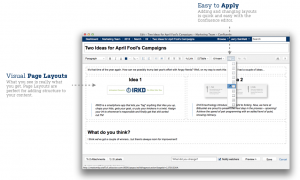 The new social collaboration features, including popular content and likes are shown below in a video from the team at Atlassian.
For more information, or to download and upgrade your existing Confluence installation, check out http://www.atlassian.com/software/confluence/whats-new